VeggieTales: Saint Nicholas
-G
I love VeggieTales, and this their third Christmas special, and probably the funniest out of the three. This movie is really cute. It shows some of how St. Nicholas originated, though it doesn't show that he was a bishop (at least, not that I can remember). It is a very sweet, comical tale, though, and highlights the importance of giving freely of our things out of a Christ-like love for each other. There's even a scene with a nun handing out bread to the poor, who teaches him the true meaning of Christmas.
What I liked:
I loved the scene with the nun, the on-going hilarious enjoyment, and the overall message.
Possible Concerns:
True to the story of St. Nick, it shows that the Saint's parents died while he was a young boy. This may be a little too sad for sensitive children, but it doesn't dwell on the tragedy for long. Overall, the actual story of St. Nicholas is not quite correct, and the movie portrays some Catholic things in a different way than they should be (the previously mentioned fact that they do not show that he was a bishop, they show a Mass in session, but do not follow what would have been the correct proceedings, little Nick doesn't want to wait for Mass to be over because he is impatient to go fishing with his father, etc.). In my opinion, show your kids this movie for a light-hearted tale of the spirit behind St. Nick, which was Christian giving, and read them an account of the real life of St. Nicholas for a better knowledge of his actual life.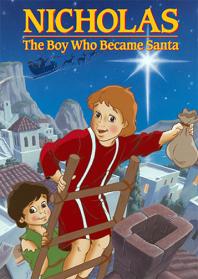 Nicholas: The Boy Who Became Santa
-G
This is a movie that shows more of St. Nick's original beginnings, shows him become a bishop, and is more religious than the VeggieTale. All the movies in this animated Saints series are good, showing very positive, kid-friendly versions of the stories of the Saints. I've been watching this one since I was a little kid; they used to show it at my old school during religion class. It's a very powerful message, and shows how the Christians were true to their faith even when they were being persecuted for it.
What I liked:
I loved the whole thing! It's very religious, showing Nicholas's piety while he was still a boy and chronicling his generosity through the rest of his life, even after being imprisoned for many years.

Possible Concerns:
There are a couple conflicts, such as a short slave scene, in which Patrick trades his new horse to free a boy, and a fire in a Church, but nothing too traumatizing.
I hope you all enjoy St. Nicholas Day, and may God bless you as your Advent journey continues!
(A note about the series "We're Selling the News": I am terribly sorry it is taking me so long to finish it, I had no idea how difficult it would be to complete the series in a timely fashion. It's been busy around here lately, but I promise to finish it before Christmas- and this is a promise I am not going to break!)